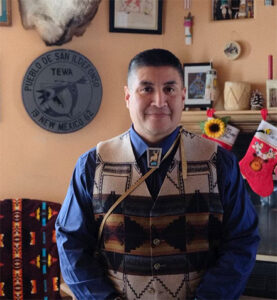 Governor's Office
The Governor is elected by the voters of the Pueblo and serves a three year term. He is aided by his staff which consist of the Department Directors and/or Supervisors of the various departments. The Governor or his designee shall serve as the official spokesperson for the Pueblo. Christopher A. Moquino will serve as Governor from 2021-2023.
Christopher A. Moquino
Governor
02 Tunyo Po
Santa Fe, NM 87506
Email address: governor@sanipueblo.org  
Patricia (Kitty) Montoya
Executive Assistant
Office: (505) 455-4101
Email address: governorsassistant@sanipueblo.org
Our Government
The Pueblo de San Ildefonso has its own Governance Agreement – similar to a written constitution.There are three branches to our government.
Legislature
Ten Council Representatives are elected by the voters of the Pueblo;  they serve two year staggered terms with five Representatives elected at each general election. The Council Representatives make and pass laws following the written Council Procedures.
2023 Public Tribal Council Contact List
Executive
One member of the Pueblo is elected every 3 years to serve as the Governor.  He/she is authorized to enforce all the laws of the Pueblo and speak for the Pueblo.
Election Commission
The Election Commission runs every election the Pueblo has to ensure the laws regarding the election is handled correctly and elections are fair and impartial.  There are 5 members.  Three Commissioners elected by the people, one Commissioner selected by the Governor, and one Commissioner selected by the Council. The term of office for Election Commissioners is four years. 
Judicial
We have a tribal court (civil and criminal and some administrative) and a Supreme Court which hears appeals from the trial court.The Tribal Judge is appointed by the Governor, and the Supreme court is by appointment (1 by the Governor, 1 by the Council) and one elected to serve a 3 year term.
Our laws and resolutions are online at this address:  law.sanipueblo.org
We are located across from the Tribal Administration Building (02 Tunyo PO).
Court Hours:
The Tribal Court is currently manned on an as needed basis.  To make a payment or to see the Court Clerk, call the Court Clerk below to set a time to meet.