Document Review
Provide comments representing San Ildefonso concerns, and perspective to DOE, LNAL, EPA, NMED, and various other agencies
LANL
Annual Environmental Surveillance Report
Environmental Assessments
Environmental Impact Statements

DOE Surplus Plutonium
CMRRNF

Findings of No Significant Impact
Permitting
Hazardous Waste
Air
National Pollutant Discharge Elimination System
DOE
Risk Based End States
Long Term Stewardship
Technical Review/Oversight
Technical expertise enhances the quality of planning, data gathering and data analysis.  It allows Community concerns and questions to be addressed with a high degree of expertise. ITRC enhances technical review abilities by providing training and interaction with national experts in many environmental disciplines
DECP
Tribal Risk Assessment
Water Quality
Database
Laboratory Analysis
Grants
Data Review
NRDA
Aamodt
Community Outreach
ITRC
Metals and Radionuclides Team
Stakeholders Team
Petroleum Vapor Intrusion Team
Air Quality
LANL Maintains:
2 AIRNET Stations
3 Thermo Luminescent Dosimeters (TLDs)
Radon
Tribe provides radon testing
Monitors LANL onsite emissions
Conducted Emissions Inventory in 2008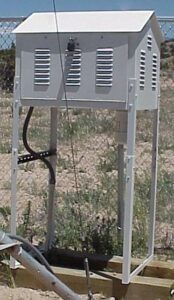 Environmental Sampling
Samples collected / field data recorded (San I APP)
Chain of Custody (COC) to LANL SMO
Samples shipped to GEL analytical laboratory
Electronic Data Deliverable (EDD) sent to DECP
Quality assured through DECP staff and AQA
Data is downloaded into DECP database available   through a customized web application
Used to determine future sampling
Data Results
Water Quality
Monthly Physiochemical Parameters
Physiochemical Parameters are Oxygen, ph etc. We monitor them is because these parameters are used by the NMED to define designated use attainment.
YSI Professional Plus / HACH 2100Q Turbidmeter
Dissolved Oxygen (mg/L / % sat.) 
Temperature 
Conductivity
Oxidation/Reduction Potential (ORP)
pH
Turbidity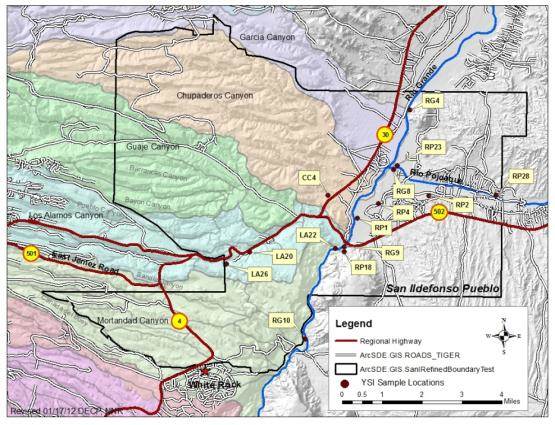 Tribal Designated Uses
Tribal Designated Uses are the uses of water resources on the Pueblo which we wish to ensure continuation without degradation. They are assigned separately for each waterbody monitored.  These uses are assigned by the Pueblo, but utilize defined parameters as described in NMAC 20.6.4. These defined parameters act as screening levels for each monitored waterbody based on assigned designated uses.
Annual Use Attainability Analysis (UAA)
14 locations (perennial / ephemeral streams, ponds, springs)
Compared to New Mexico Environment Department Standards
Data uploaded to EPA STORET